Boyfriend, prophet to die by hanging for killing LASU final year student.
By Naomisophyblog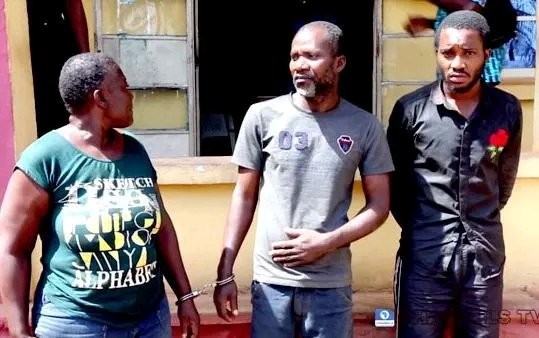 Justice Christiana Obadina of an Osun State High Court in Ikire has delivered a verdict in the trial of Philip Segun, a prophet at Cherubim and Cherubim Church, Solution Chapel, Ikoyi-Ile, and Owolabi Adeeko, for the gruesome murder of Lagos State University final year student, Favour Daley-Oladele.
The court also convicted Owolabi's mother, Bola, for her involvement in the incident, which involved the consumption of human flesh.
The court sentenced Owolabi Adeeko, 23, to death by hanging for the brutal murder of Favour Daley-Oladele, a final-year Sociology student.
Owolabi had lured Favour from Lagos to Ikire under the pretence of visiting his uncle, while he, his mother, and Prophet Segun had planned to use her for a money ritual.
Favour was subsequently killed on the church premises, where Owolabi struck her on the head with a pestle.
Her organs were used for ritual purposes, and her remains were buried in a shallow grave outside the church on December 8, 2019.
Following their arrest, the suspects confessed to the crime, leading to the exhumation of Favour's body by the police a few weeks later.
The defendants were first arraigned before the court on November 15, 2021, on charges of conspiracy and murder.
During the trial, the prosecution team from the Ministry of Justice, led by Mrs Adekemi Bello, presented nine witnesses, including the police investigating officer, and submitted several exhibits. The defendants testified in their defence but did not call any additional witnesses.
In her judgement, Justice Obadina determined that the prosecution had proven the case beyond a reasonable doubt. Prophet Philip Segun and Owolabi Adeeko were found guilty of murder and conspiracy, while Bola Adeeko was convicted for the consumption of human flesh, which is contrary to the law.
During the allocutor plea, the defence counsel, Adeshina Olaniyan, pleaded for leniency from the court.
Consequently, the presiding judge sentenced Prophet Philip Segun and Owolabi Adeeko to death by hanging for murder and 14 years imprisonment for conspiracy.
Bola Adeeko, Owolabi's mother, was sentenced to two years imprisonment for the consumption of human flesh.
It should be noted that Owolabi had previously confessed to using his girlfriend to prepare a ritual meal known as "victory soup" for money ritual, which he and his mother consumed.
The verdict brings closure to the tragic case of Favour Daley-Oladele's murder, as justice has been served with the convictions and sentences handed down by the court.
This is another opportunity to own a faster-loading website to expand your business and take it digitally online. Meet the best website designer/master coder for any kind of website. Contact them now it is affordable Chat now: 09077260922