CP Wale Abass psc Recounts The Successes Recorded by Delta State Command From June to Date – See details
By Naomisophysblog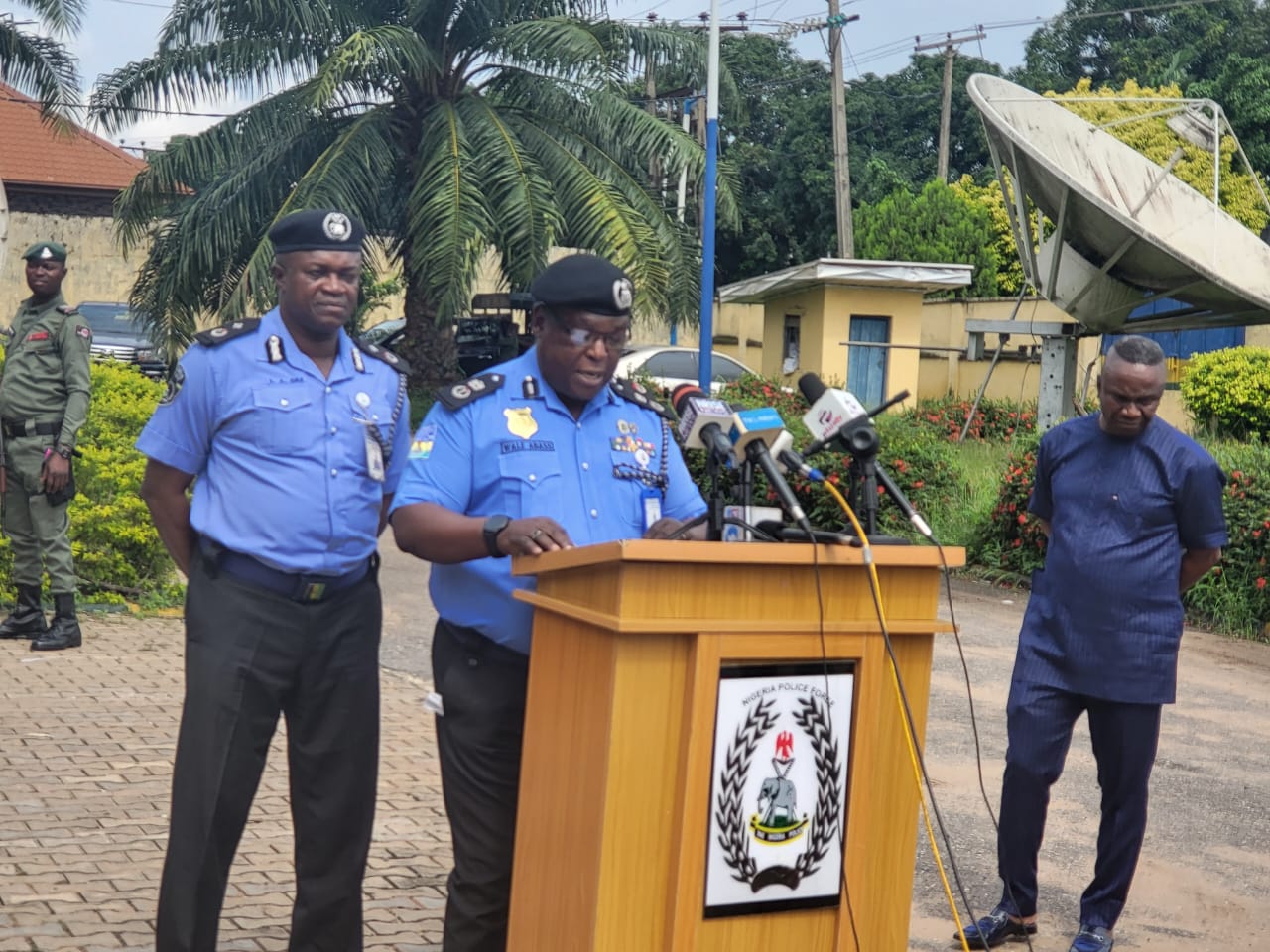 Commissioner of Police, Delta State Command, CP Wale Abass psc addresses the press during a press briefing, He says it's an avenue for the Police and the press to interact and also avail the public on the successes recorded by the command within the period under review.
CP Wale said during the last officers conference, he directed Area commanders, DPOS, and Tactical Commanders to sustain raids of criminal hideouts/blackspots that is ongoing within their areas of responsibilities while admonishing them on the need to remain committed to their primary duties which include protection of lives and property, maintenance of law and order etc, and to always lecture their men to be civil when dealing with the public, because the Command under his watch will deal decisively with any erring officer.
Below are some of the various achievements recorded by the Command within the period under review.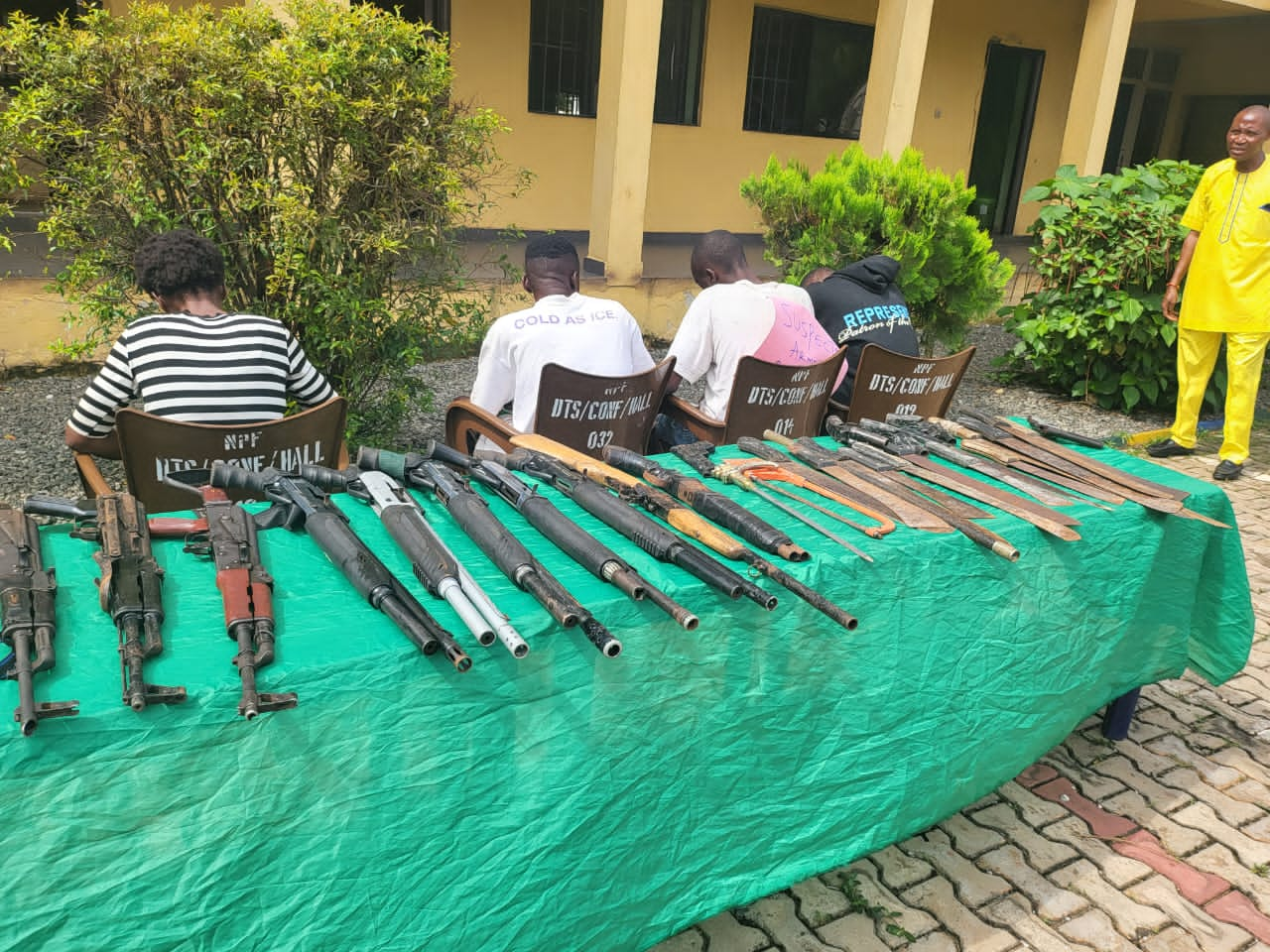 1. RECOVERY OF ONE AK-47 RIFLE LOADED WITH FIVE MAGAZINES, ONE ASSAULT RIFLE, TWO PUMP ACTION GUNS, DOUBLE BARREL GUNS, ONE HUNDRED AND SIXTY ONE ROUNDS OF 7.62MM LIVE AMMUNITION, AND CARTRIDGES:
Following series of intelligence reports received on the activities of kidnappers/armed robbers in Ekpan Uvwie LGA, Warri and environs, on 03/07/2023 at about 1600hrs, the DPO led a combined team comprising policemen attached to Ekpan Police Station and personnel of 3 battalion Nigerian army on a sting operation and raided their hideout at Agadaga avenue off Jakpa road, Ekpan, where discreet search was conducted at an uncompleted building during which one (1) AK-47 Rifle with five (5) magazines loaded with One Hundred and Sixty-one (161) rounds of 7.62mm ammunition, one (1) Assault Rifle with two magazines loaded with fifty-nine (59) rounds of 5.56mm ammunition, two English pump-action guns, One Hundred and Ten (110) rounds of live cartridges, one (1) Double Barrel gun, one Single Barrel gun, one toy gun, fourteen (14) cutlasses, bunch of charms wrapped in a cap. Serious manhunt for the criminal syndicate is ongoing.
2. RECOVERY OF A MERCEDEZ BENZ SUV STOLEN AT A CAR STAND IN ABUJA:
Sequel to a complaint received on 3/7/2023 at about 1700hours from a car dealer (name withheld) in Abuja whose vehicle was stolen from his car stand by the suspect who disguised as intending buyer and absconded with the said vehicle during a test drive on 30/6/2023 in Abuja. Armed with available intelligence, operatives of the CP-Decoy Squad stormed Ughelli town at about 0115hours of 3/7/2023 and recovered the said Mercedez Benz SUV abandoned in a bush along Oteri road by Doctors Quarters Ughelli North LGA. Serious manhunt for the suspect is ongoing.
3. ARREST OF A HUMAN TRAFFICKING SUSPECT: On 30/6/2023, the DPO Ekpan Police station received a complaint that two young ladies (name withheld) have not be seen since they went to a church name fire gospel mission located at No. 1 Tare Alegbo Street Effurun Ovwie LGA for a church program. The DPO swung into action and arrested the suspect who claimed to be a pastor name Marvelous Ebangwe 'm' age 42yrs. Investigation revealed that the suspect specializes in trafficking young girls to African countries. Suspect stated that the victims are presently in Senegal. Investigation is ongoing.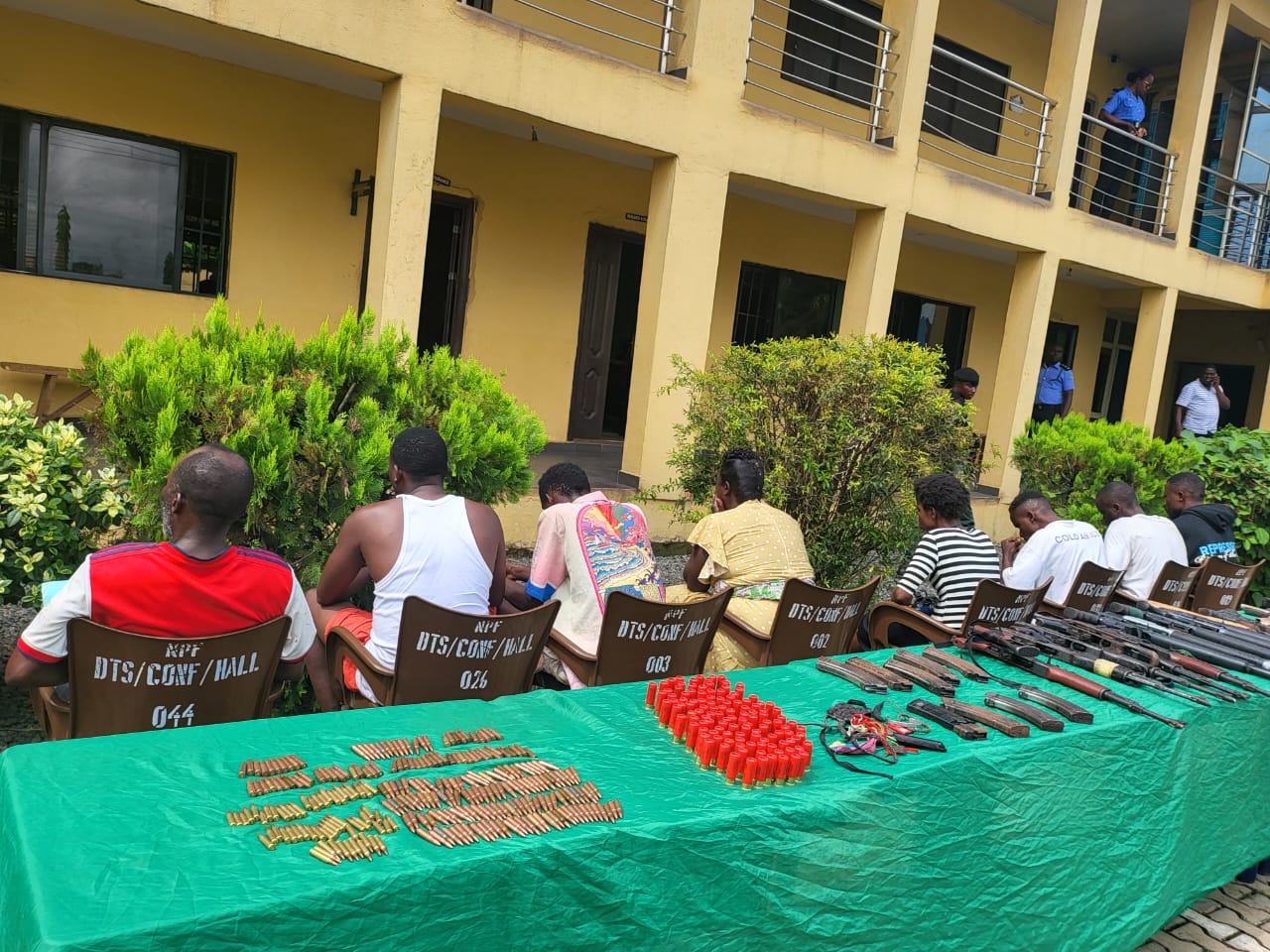 4. ARREST OF A SUSPECTED FRAUD SYNDICATE: On 4/7/2023, at about 0800hours, operatives attached to safer highway while on stop and search duty along Summit road Asaba, received a distress call from a female victim (name withheld) that some suspected fraudster collected her phone and ATM card along the expressway by Kia motors and dropped her off along DLA road but fortunately, their vehicle entered a ditch while trying to escape. The police swiftly mobilized to the scene and arrested the two suspects. Preliminary investigation revealed that the two suspects are members of a syndicate that lures unsuspecting victims into their vehicle in the guise of looking for direction, then hypnotize them, collect their phones, ATM cards and empty their bank accounts. Suspects are in custody and investigation is ongoing.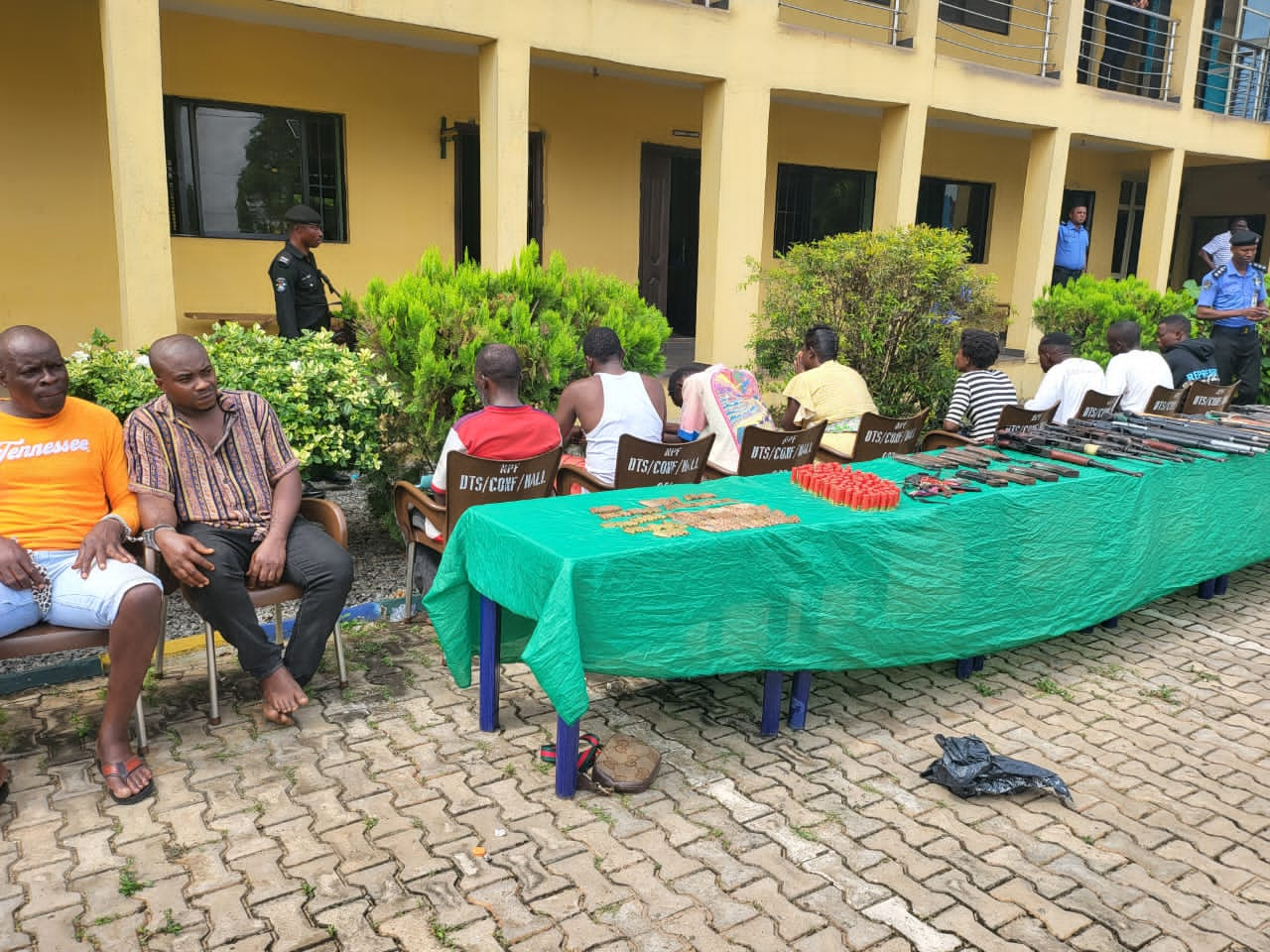 5. ARREST OF SUSPECTED ARMED ROBBERS AND RECOVERY OF AN ENGLISH MADE PISTOL: On 26/06/2023, at about 2220 hours, Police operatives attached to Ufoma division while on night patrol at Ekrejebor in Ughelli North LGA, acting on a tip off, intercepted two young men, when searched, one English pistol was recovered. The suspects namely; Ejiro Praise 'm' age 29yrs and Eshare Ovuovwuro 'm' age 21yrs were arrested. Suspects are in custody and investigation ongoing.
6. ARREST OF SUSPECTED ARMED ROBBERS: On 3/7/2023, at about 1334hours, policemen attached to safer highway while on stop and search duty along Warri-Sapele Road, intercepted a commercial vehicle and conducted search on all the occupants during which three locally made pistols concealed in a bag were recovered from two of the passengers. They were immediately taken into custody and investigation is ongoing.
7. ARREST OF A MURDER SUSPECT: On 16/6/2023, at about 1700hours, the DPO Ovwian Aladja division received a report on the murder of one Felicia Catibekpe 'f' aged 45years who was allegedly murdered by her estranged lover one Augustine Gola Ejowor 'm' aged 50yrs of Okolor Inland in UDU LGA who escaped after the act. On receipt of this complaint, the DPO detailed operatives to embark on a discreet investigation. The suspect was eventually arrested on 21/6/2023 when he reported himself at Ovwian Aladja Police station. Suspect stated that he murdered the woman during the course of a disagreement using a machete. Suspect is in custody and investigation is ongoing.
Summary of arms and ammunition recovered from June to date
AK-47 Recovered – 5
Pump Action gun recovered – 5
Locally made guns recovered -24
Ammunition recovered -489
Cartridges recovered -469
Stolen vehicles recovered -8
CONCLUSION: While assuring Delta residents of adequate security, I wish to use this medium to solicit for their continuous understanding and support especially in the area of information. Residents are also urged to monitor their environment and report any suspicious persons or movement to the Police through any of the following numbers
CONTROL ROOM NUMBERS:
1. 08036684974
2. 08125958005
3. 09053872287
4. 09155570007 ( PPRO'S OFFICE)
This is another opportunity to own a faster-loading website to expand your business and take it digitally online. Meet the best website designer/master coder for any kind of website. Contact them now it is affordable Chat now: 09077260922